Authentication with Flask, React, and Docker
---
Learn how to add authentication to a Flask and React microservice!
Learning Objectives
By the end of this course, you will be able to:
Use Test-Driven Development to develop a React application
Work with React running inside a Docker Container
Test a React application with Jest and React Testing Library
Enable type checking with React PropTypes
Manage form state with Formik and Yup
Implement user authentication with JSON Web Tokens (JWTs)
Configure silent login via JWT refresh tokens
Develop RESTful auth endpoints with Python, Flask, and Flask-RESTX
Test a Flask app with pytest
Configure Flask Bcrypt for password hashing
Use React Router to manage client-side routes in React
Containerize Flask and React with a single Dockerfile using a multi-stage build
Deploy an app to Heroku with Docker
Configure GitLab CI to deploy Docker images to Heroku
Document a RESTful API with Swagger/OpenAPI
Tools and Technologies
Back-end
Python
Flask
Postgres
pytest
Flask-RESTX
Flask-SQLAlchemy
Flask-CORS
Flask-Bcrypt
PyJWT
Gunicorn
Coverage.py
Flake8
Black
isort
Swagger/OpenAPI
Front-end
JavaScript
Node
React
Formik
Jest
React Testing Library
Axios
React Router
ESLint
Prettier
Formik
Yup
Tools
Create React App
Docker
Nginx
HTTPie
Services
GitLab
Heroku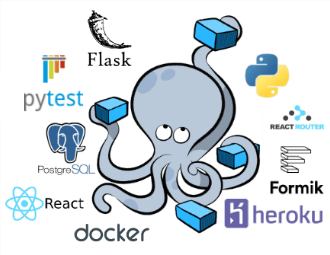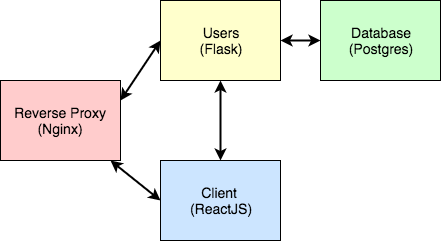 Prerequisites
This is not a beginner course. It's designed for the advanced-beginner -- someone with at least six months of web development experience. Before beginning, you should have some familiarity with the following topics. Refer to these resources for more info:
Demo
Info
Current version:

3.0.1

Last updated:

November 25th, 2020

Author: Michael Herman
---
What will you learn?
Part 1
In this first part, you'll learn how to quickly spin up a reproducible development environment with Docker to manage a RESTful API powered by Python, the Flask web framework, Flask-RESTX, and Postgres. We'll then add React along with Jest (a JavaScript test runner) and React Testing Library (a testing library designed specifically for React) to the client-side. We'll also introduce type checking, on the client-side, with React PropTypes and continuous integration (CI).
Part 2
In part 2, we'll add password hashing in order to implement token-based authentication to the Flask app with JSON Web Tokens (JWTs). We'll then turn our attention to the client-side and add React Router to the React app to enable client-side routing along with Formik and Yup for managing and validating forms.
Part 3
In part 3, on the client-side we'll add an authentication flow via JSON Web Tokens (JWTs) and spend time refactoring and writing tests with React Testing Library. We'll then turn our attention to ops and deploy the application to Heroku using the GitLab CI pipeline.
---
Table of Contents
Table of contents from Authentication with Flask, React, and Docker:
Part 1
React Forms

Type Checking

React and Docker

Linting and Code Formatting

Continuous Integration
Part 2
Flask Bcrypt

JWT Setup

Auth Routes

React Router

React Bulma

Formik And Yup
Part 3
React Authentication - part 1

Mocking User Interaction

React Authentication - part 2

React Alert Messages

Update Components

Deployment

Workflow

Structure

Next Steps
Get 3 Parts:
---
Join our mailing list to be notified about course updates and new tutorials.