Deploying a Flask and React Microservice to AWS ECS
---
Learn how to deploy microservices to Amazon ECS powered by Flask, React, and Docker.
Learning Objectives
By the end of this course, you will be able to:
Explain what container orchestration is and why you may need to use an orchestration tool to manage deployments
Discuss the pros and cons of using Elastic Container Service (ECS) over other orchestration tools like Kubernetes, Mesos, and Docker Swarm
Set up an IAM user
Create a production Dockerfile that uses multistage Docker builds
Utilize Amazon Elastic Container Registry (ECR) image registry to store built images
Configure CodeBuild to run when code is checked in to GitHub
Run unit and integrations tests and check code for quality and formatting issues on CodeBuild
Configure RDS for data persistence
Configure an Application Load Balancer (ALB) along with ECS to run a set of microservices
Send container logs to CloudWatch
Update a running container via a zero-downtime deployment strategy to not disrupt the current users or your application
Explain the types of scaling that are available to you within ECS
Use AWS Fargate with ECS to deploy a microservice
Spin up AWS infrastructure via Terraform
Tools and Technologies
Back-end
Python
Flask
Postgres
pytest
Flask-RESTX
Flask-SQLAlchemy
Flask-CORS
Flask-Bcrypt
PyJWT
Gunicorn
Coverage.py
flake8
Black
isort
Swagger/OpenAPI
Front-end
JavaScript
Node
React
Formik
Jest
React Testing Library
Axios
React Router
ESLint
Prettier
Formik
Yup
Tools
Create React App
Docker
Nginx
HTTPie
Terraform
AWS Services
IAM
Elastic Container Registry (ECR)
CodeBuild
CloudWatch
Elastic Container Service (ECS)
Elastic Load Balancing (ELB)
RDS
Fargate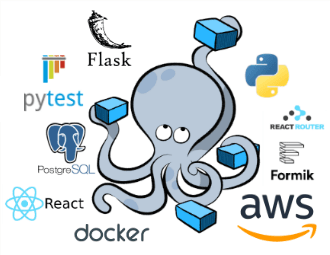 Prerequisites
This is not a beginner course. It's designed for the advanced-beginner -- someone with at least six months of web development experience. Before beginning, you should have some familiarity with the following topics. Refer to these resources for more info:
It will also be helpful to have experience with Flask and React. Check out the Test-Driven Development with Python, Flask, and Docker and Authentication with Flask, React, and Docker courses for more.
Demo
Info
Current version:

1.3.0

Last updated:

November 25th, 2020

Author: Michael Herman
Table of Contents
AWS Setup

Elastic Container Registry

Production Docker

CodeBuild

Elastic Load Balancer

Setting up RDS

Elastic Container Service

ECS CodeBuild

CodeBuild Workflow

Fargate

Workflow

Structure

Next Steps
---
Join our mailing list to be notified about course updates and new tutorials.